A French Bulldog breeder located in McKinney, Texas.
Kelfrey Frenchies specializes in breeding happy, healthy, socialized companions that are a great addition to any family. We breed in small litters with love and care in our home.
Meet Our Pack
Our dogs are very much a part of our pack, from when we wake in the morning to when we sit down to relax for the evening. They are at our sides, with a smile or a toy, ready for pets and love.
All of our dogs have been fully health tested and are four panel clear. They have also had full genetic testing for DNA and traits.
I have known Kelly and Geof for several years now and am familiar with their home and their care of dogs. They are so compassionate and loving with their own dogs, as well as have taken in rescue dogs to find homes for. They are reputable and honest and have been able to make many families happy by providing healthy puppies through the breeding of high quality dogs. Their home environment is super clean and their dogs are kept clean, well-groomed and well cared for. I would recommend Kelfrey Frenchies as dog care-givers, breeders, and overall knowledgeable regarding dogs, dog-breeding and dog care.
Kelly is an amazing breeder that I would highly recommend to anyone looking for the perfect puppy to add to their family. Being a first time dog owner, I had the best experience that I could ever have gone through with the process of buying a puppy. Starting with very reasonable prices to the cutest puppy updates. I can honestly say Kelly is the best breeder out there to trust, she cares and knows so much on how to have your puppy as healthy as can be by the time you get to take him or her home. She also gives you as much information as possible on vaccines and everything that your puppy needs in order for your puppy to live a long happy and healthy life.
I cannot say enough good things about working with Kelly!  She is extremely knowledgeable about Frenchies and available to help any time before and after you receive your puppy.  Of course, the best part is her puppies.  They are healthy and happy from the start.  And, LITTER BOX trained!  I was skeptical until we brought our baby home.  It is amazing.  She gets up and goes to the box every time she needs to potty.  I am so grateful that I found Kelly and Kelfrey Frenchies!  I would 100% recommend her to all of my family and friends.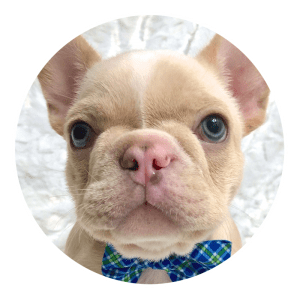 Let me know when there are more!
Interested in a puppy? Want to know when our next litter arrives?
Contact us and we'll keep you up to date on our upcoming litters.